Het antwoord op deze vraag is niet eenvoudig, en wordt, zoals vaak bepaald door de persoonlijke situatie en wensen van de ondernemer. Vaak dringt een beslissing zich op wanneer een product goed loopt of wanneer de ondernemer een nieuw product of concept op de markt gaat brengen.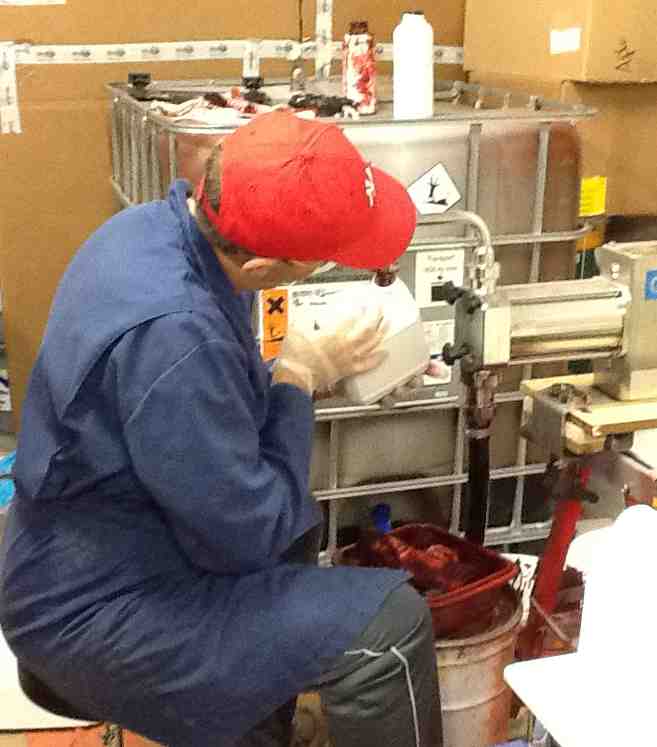 Loonafvullen:
Het afvulbedrijf beschikt reeds over de apparatuur, knowhow en vaak ook de mensen om uw producten te verpakken. U bespreekt uw wensen en wanneer een akkoord bereikt is dan wordt alles voor u gedaan. U kunt vanaf dat moment al uw tijd, energie en budgetten in de ontwikkeling van uw bedrijf steken om uw producten nog beter te promoten.
Op zich is dit een prima scenario: U hoeft geen kapitaal in apparatuur en (verwarmde) ruimte te steken en de zorgen van verpakken en logistiek worden door een ander (het afvulbedrijf) uit handen genomen: tenslotte hebben zij veel meer ervaring. In het geval van voedingsmiddelen, cosmetische of chemische producten beschikken afvulbedrijven over de nodige vergunningen enz…
Nadelen:
U hoeft niet te investeren maar het afvulbedrijf zal het werk uiteraard doorrekenen. Daarbij zullen ze vaak eisen dat u een minimum aantal laat verpakken. Deze minima zijn bij alle bedrijven verschillend maar hou er rekening mee.

De keuze van verpakking (flessen, potten, doppen, stickers, dozen etc… )  zal nog steeds uw verantwoordelijkheid zijn en de loonafvuller zal meestal esen dat deze materialen door u zelf aangekocht worden. U moet het complete plan klaar hebben wanneer u naar het afvulbedrijf stapt: zie hiervoor de checklist op onze website

Afvulbedrijven kunnen niet op stel en sprong produceren: alles gaat in een planning en daar moet u ook rekening mee houden wanneer u levertermijnen afspreekt met uw klanten.

Bij outsourcing bestaan altijd het risico dat u een stukje van uw know-how prijsgeeft: het bedrijf dat voor u afvult (of één van de werknemers) kan over uw schouder meekijken en vertrouwelijke informatie voor eigen doeleinden gebruiken.

Loonafvullers zijn, net als u, ondernemers:  ze kunnen op een dag een andere koers varen, verhuizen naar het buitenland of -helaas- stoppen met hun activiteiten!  op dat moment moet u in allerijl uitkijken naar alternatieven.



Zelf afvullen:
U heeft alle touwtjes in handen! dat is het voordeel!
Afvullen en verpakken doet u op de voor u meest geschikte momenten en wanneer de markt het vraagt: u kunt uw klanten korte levertermijnen beloven en u speelt soepel in op elke behoefte en opportuniteit.
Nadelen:
Investeringen: logisch: een professionele onderneming moèt gewoon met goede apparatuur werken! Het hoeft allemaal niet overdreven duur te zijn maar wel geschikt voor de toepassing! De amateur middelen zijn al snel niet meer toereikend en doen u te veel tijd en geld verliezen.




Naast apparatuur heeft u uiteraard ook een geschikte ruimte nodig: schoon, goed verlicht en met opslagcapaciteit. Geloof me: volle en lege verpakkingen nemen enorm veel ruimte in! vaak is de ruimte duurder dan de apparaten.




U gaat niet zélf afvullen? Dan moeten medewerkers dat voor u doen: die moeten een salaris krijgen, moeten opgeleid en begeleid worden en zijn ook wel eens ziek of te druk met andere werkzaamheden. Maar hou er ook rekening mee dat mensen  met deugdelijk materiaal willen werken en geen nutteloos werk uitvoeren: en dat brengt ons terug bij de eerste paragraaf.
Wat doen we nu?

Dit zijn slechts enkele overwegingen bij beide scenario's en er is geen absolute "beste koop". Het is gewoon erg belangrijk  om voor de start van een project reeds zoveel mogelijk informatie te verzamelen over beide trajecten. Wanneer de trein eenmaal gaat rijden wordt het vaak te hectisch en komt u in tijdnood: op dat moment moet u gaan improviseren en dat is altijd nadelig.